Having a wedding, Party, corporate event, or promotion, then the Selfie Box is for you, literally any event you can think of Cheshire Celebrations can make yours the one to remember.
Hiring a Selfie Box from Cheshire Celebrations designed in a sleek vintage style which will turn your event into a celebration that will be a real talking point. Your guests will be entertained for hours with all the fun props we include and all guests get to take home an instant image of themselves and friends having fun at your special wedding or party event.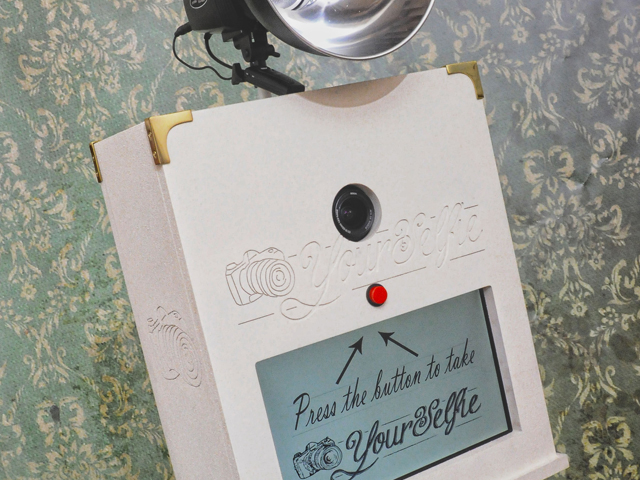 The Selfie Box Experience
● 3 hours unlimited use
● Delivery & set up
● Bespoke personalized prints
● Props box for you and your guests
● 1 attendant to assist your guests
● Digital photo gallery
● Backdrop or a personalised backdrop can be created for you to suit your needs on request.
Your wedding or event will be looked after by one of our professional attendants to ensure everything runs smoothly!
2 Prints with every image captured
Personalised Wall for your event
Edited overlay designs
Digital gallery
A fully trained operator to assist in the experience
Prop box and standard backdrop
Equipment Size: 0.5m wide x 0.4m deep x 1.6m high
Operational Area Required: 2.5m wide x 3.0m deep x 2m high
Power: standard socket required (generator hire available)
Staff: trained assistant provided
Number Of Users: 5
Access Requirements: please note that a width of 0.82m is required when moving the equipment through doorways and corridors. If you feel that access may be an issue, such as stairways or lift access, uneven surfaces, obstructions or perhaps long distances then please mention this in your enquiry.
The Selfie Box has a fantastic feature that allows this to be a more bespoke feature at your event:
Unlimited print package (£25)

Hi-Res Backdrop (£25)
Additional hour (£45)
Personalised photo album (£40)
Speak to one of our team today to discuss how you can benefit from these bespoke features for your event.
Recent Reviews
Cheshire Celebrations provided a post-box, magic mirror and 'LOVE' letters for our wedding. The magic mirror was brilliant and all of our guests loved it. It has provided us with lots of brilliant photos from the evening that we have loved going through. The 'LOVE' letters looked amazing next to our dance floor, and guests commented that they looked more classy than similar products they had seen at weddings before. Simon was very helpful throughout, and kept in touch with us brilliantly, answering all of our questions promptly. Would highly recommend!!!
The magic mirror is amazing for a wedding!! Simon was so helpful from our initial enquiry and it created so much fun for all the guests on our special day. The album has me in stitches!! We have been to a lot of weddings this year, most of them had a photo booth so it was lovely to have something a little different that no one else has had yet! The mirror also means you can get big group shots and photo bomb!
I would highly recommend Cheshire Celebrations for any weddings or parties!
A huge thank you from Mr & Mrs Best
Thank you so much, Cheshire Celebrations for being PERFECT yesterday at my husbands 40th party. Everyone had a great time. Your service was absolutely amazing. All the guests loved the pictures. The best thing was that you encouraged the guests.
Working with Cheshire Celebrations was an absolute breeze! We had a very busy event with over 650 young people attending, and Simon and Kevin were amazing. All night they kept big smiles on their faces and helped make the young people's Graduation a night they won't forget. The Magic Mirror looks amazing and everyone loved it! Will definitely be working with these guys again in the future! Thanks from the whole of the NCS Team
Why Choose Cheshire Celebrations?
Pricing
If you are looking for a trusted supplier with good quality equipment…then Cheshire Celebrations are the right company for you.
We only purchase and hire out premium quality our items which enables us to create bespoke packages to suit your specific requirements and budget.
We've worked on a number of events, projects and with a huge array of companies and brands across the UK
Our Promise
We will never let you down
We don't say we can do things that we can't
We never send untrained staff to an event
If you have been given a quote elsewhere, please feel free to give us a call and we'll try to replicate it for you.
However, please note that we are often asked to price match against less quality ranges and therefore we may not necessarily be the right company for you.
Locations Covered
As our name suggests, we cover all Cheshire and Greater Manchester, from Stockport, Manchester and Oldham to Alderley Edge, Prestbury and Wilmslow.
Although we are based in Manchester we often go further afield and cover the surrounding areas like Liverpool, Chester and North Wales.